Wildlife Pictures
Humpback Whale - Wildlife Pictures
Wildlife Pictures - feeding Humpback Whale - Megaptera Novaeangliae at sunset.


Humpback whales are frequently seen around Cape Cod, in the USA. I shot these wildlife pictures of a humpback whale eating at Cape Cod, most likely feeding on Sand Lance, a small fish found in the surrounding waters.


The sea gull flying by, gives a great deal of perspective to the size of the humpback whale which in these wildlife pictures we can only see the mouth of this magnificent creature.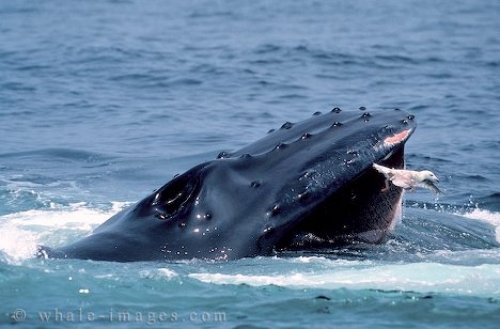 Picture of a Humpback Whale head, the baleen and a seagull escaping from a big mouth.
Pictures from the collection "Whale Watching"


= click to scroll forwards/backwards
Related tags / search terms for:
Wildlife Pictures
Title
Wildlife Pictures
Humpback Whale - Wildlife Pictures
Scientific Name
Megaptera novaeangliae
Photographer
Rolf Hicker
Photo name
rhk00013 - Wildlife Pictures