Sea Animals
Photograph of Sea Animals, two surfing Killer Whales
Sea Animals - Northern Resident Orca Whales (Killer Whales) off the Vancouver Island coastline, British Columbia, Canada.
Two female orca whales are catching a ride with one of the local whale watching boats in Johnstone Strait in British Columbia, western Canada.
It's great to see two sea animals surfing side by side especially a mother (Blinkhorn, A54) with her baby (Cedar, A 75). This is a unique sight, first of all to see surfing killer whales, and then to to have two killer whales surfing so close to one another as they travel at 20 knots (or nearly 40 kilometres an hour).
These sea animals display a great deal of power and strength as they surf along side the whale watching vessel.
If you ever make it to Northern Vancouver Island then you can not miss one of the amazing whale watching tours out of Telegraph Cove or Port McNeill. ... continue below the picture...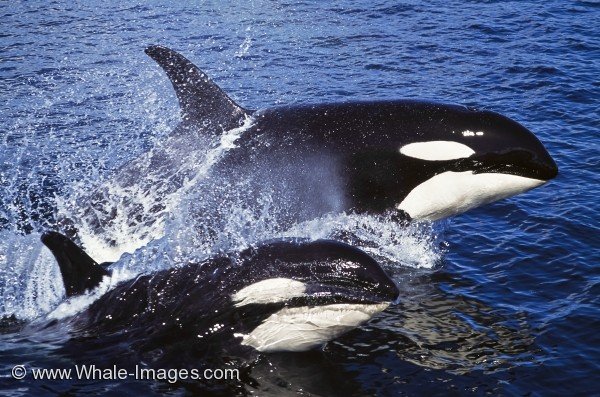 Picture of surfing Killer Whales beside a whale watching boat in Johnstone Strait near robson Bight,
Pictures from the collection "Whale Watching Vancouver Island"


= click to scroll forwards/backwards
Make sure to see this outstanding picture selection of sea animals.
Related tags / search terms for:
Sea Animals
Title
Sea Animals
Photograph of Sea Animals, two surfing Killer Whales
Scientific Name
Orcinus orca
Photographer
Rolf Hicker
Photo name
x5_sc_1103-ed.jpg - Sea Animals
Products available for this photo
You can add any of the above products to your shopping cart.
All of our prints come masterfully printed on museum-quality archival paper, and every product comes with your satisfaction guaranteed!

We usually ship within 48 hours!