Orca Whale Tail
A Orca Whale shows his tail off the coast of Northern Vancouver Island
This picture of a large Orca Whale showing his tail was taken on a whale watching tour from Telegraph Cove on Northern Vancouver Island. Telegraph Cove is located just west of the Robson Bight Reserve. Whale watching tours are leaving from Telegraph Cove on a daily base in the season between June and October.


This photo shows the tail of a Northern Resident orca Whale.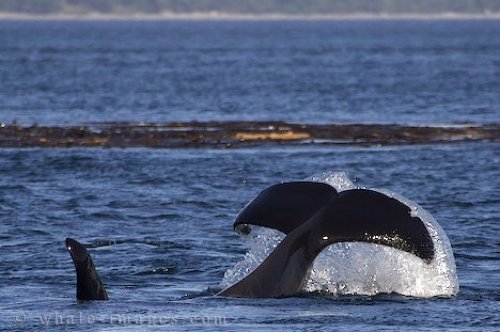 Picture of a Orca whale showing is tail in Johnstone Strait in British Columbia, Canada.
Pictures from the collection "Killer Whale Photos"


= click to scroll forwards/backwards
Related tags / search terms for:
Orca Whale Tail
Title
Orca Whale Tail
A Orca Whale shows his tail off the coast of Northern Vancouver Island
Scientific Name
Orcinus orca
Photographer
Rolf Hicker
Photo name
crw0206 - Orca Whale Tail