Orca Whale Surfing
Large male Orca Whale surfing beside a whale watching vessel
Orca Whale surfing - Northern Resident Orca Whale.


The sight of this large male orca whale surfing behind the boat in Johnstone Strait, caught these whale watchers by surprise. It is an inspiring and grand sight to see a large killer whale keeping pace with a fast boat as if it were a game.


The sheer power of an orca whale surfing is demonstrated here as the whale watching vessel powers along at 20 knots, this large male killer whale is easily keeping pace.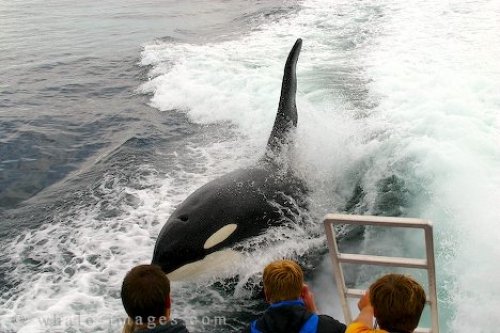 Picture of tourists and a surfing Killer Whale beside a whale watching boat in Queen Charlotte Sound, Vancouver Island, Canada.
Pictures from the collection "All Pictures"


= click to scroll forwards/backwards
Related tags / search terms for:
Orca Whale Surfing
Title
Orca Whale Surfing
Large male Orca Whale surfing beside a whale watching vessel
Scientific Name
Orcinus orca
Photographer
Rolf Hicker
Photo name
898-9872_img - Orca Whale Surfing