Ocean Life
3 Orca Whales spyhopping, thats Ocean Life pure!
Ocean Life - Northern Resident Orca Whales, I15, British Columbia
A unique picture of three spyhopping orca whales checking out the sights above the water and enjoying the ocean life ! Spyhopping is when the Killer whales hang vertically in the water with their head partially above the water line. It is unusual to have three orca whales spyhopping right next to each other and at the same time.
These guys were definitely synchronized as they rose to the top and then just as gracefully slid back down to below the water line, back into their ocean life.
Looking for more ocean pictures? Here you can find a great selection of great ocean pictures and many other pictures.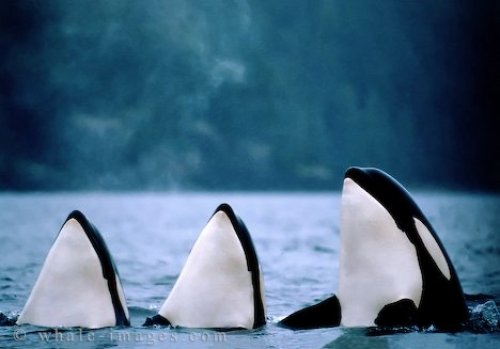 Picture of ocean life, three orca whales spyhopping in the Pacific Ocean.
Pictures from the collection "Transient Killer Whales"


= click to scroll forwards/backwards
Related tags / search terms for:
Ocean Life
Title
Ocean Life
3 Orca Whales spyhopping, thats Ocean Life pure!
Scientific Name
Orcinus orca
Photographer
Rolf Hicker
Photo name
sc_8015 - Ocean Life
Products available for this photo
You can add any of the above products to your shopping cart.
All of our prints come masterfully printed on museum-quality archival paper, and every product comes with your satisfaction guaranteed!

We usually ship within 48 hours!