Ocean Animals
Orca whale with Rainbow in the pacific ocean - Ocean Animals
Ocean Animals - Northern Resident Killer Whale
Killer Whales breathe air at the water surface. When these beautiful ocean animals come to the surface of the water to breathe they first exhale, which creates a plume of fine mist.
This orca whale was perfectly positioned so that when he exhaled, the mist from his breathe created a rainbow right above his head - creating a mystical image of these ocean animals.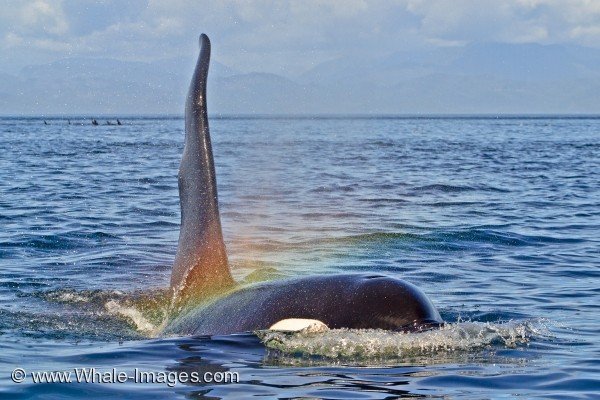 Picture of a male Orca Whale, a typical ocean animal, with a rainbow above
Pictures from the collection "Transient Killer Whales"


= click to scroll forwards/backwards
Related tags / search terms for:
Ocean Animals
Title
Ocean Animals
Orca whale with Rainbow in the pacific ocean - Ocean Animals
Scientific Name
Orcinus orca
Photographer
Rolf Hicker
Photo name
crw_0026-ed.jpg - Ocean Animals
Products available for this photo
You can add any of the above products to your shopping cart.
All of our prints come masterfully printed on museum-quality archival paper, and every product comes with your satisfaction guaranteed!

We usually ship within 48 hours!