Bottlenose Dolphins
Photos of Bottlenose Dolphins underwater in Red Sea
Bottlenose Dolphins - Red Sea, Israel


Known for their playful and carefree nature, Bottlenose Dolphins are among the most social of all dolphin species. It was a real pleasure to see these dolphins in their own habitat, darting about effortlessly, coming close to check me out then dart off again.


They seemed to be beckoning to me to come and play, and extremely inquisitive with the camera. Bottlenose dolphins are most widely used at aquariums and research facilities.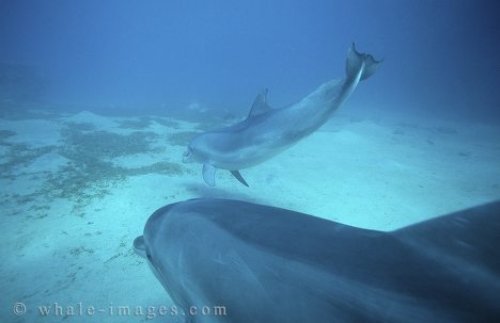 Picture of two bottlenose dolphins underwater in the Red Sea
Pictures from the collection "USA"


= click to scroll forwards/backwards
Related tags / search terms for:
Bottlenose Dolphins
Title
Bottlenose Dolphins
Photos of Bottlenose Dolphins underwater in Red Sea
Scientific Name
Tursiops truncatus
Photographer
Rolf Hicker
Photo name
ad_22446p - Bottlenose Dolphins
Products available for this photo
You can add any of the above products to your shopping cart.
All of our prints come masterfully printed on museum-quality archival paper, and every product comes with your satisfaction guaranteed!

We usually ship within 48 hours!